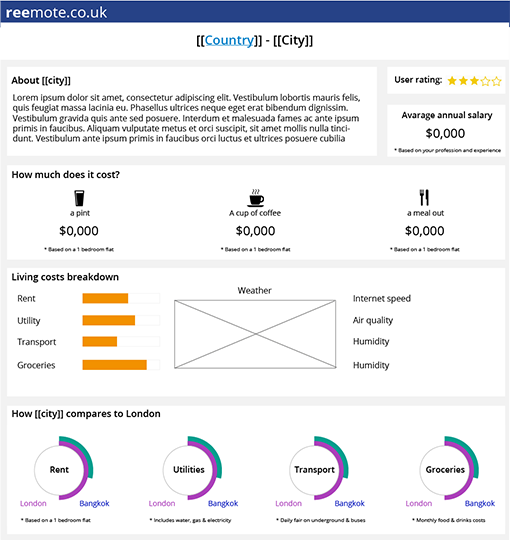 initial city page design screens
The brief:
Create a website that is aimed for the nomads, remote workers. The site will take information such as the user's job title, salary and current location and help choose the next destination of work/life, by comparing the prospect city's cost of living with the current one.
Challenges:
As the sole creative in the team my role included defining user journies, key features and content. As this is a comparison site I also had to make sure thecontent itself was easy to understand. For the developers the challange was to gather accurate data about other cities and costs of specific items.
What I did:
The cost of living data was key to this project and would determine what information we show and compare. Working closely with the developer we determined what comparison points we can collect and compare as well as what cities have sufficient data available about them. I iterated on the wireframes and designs according to feedback from the developer and helped build some of the pages useing HTML and CSS.
Skills:
Sketching, wireframes, UI, HTML, CSS, JavaScript
Results:
This is an ongoing project still being developed and iterated.